Huskies are amazing dogs.
They're smart, loyal, and playful.
If you have one of these wonderful creatures in your life, you'll want to learn how to train them properly.
But if you have a husky that starts growling, it may be an indication of something more serious than just a bad day.
Here's what you should do next.
First, let's talk about huskies' personality traits.
Many people think of huskies as being aggressive, but they actually aren't.
Huskies are known for their loyalty, affection, and friendliness.
The only time you might see any aggression is when they're young and playing with other puppies — and even then, this doesn't last too long.
However, huskies are very protective and territorial.
If your husky growls at another dog, it's because he thinks the other dog is threatening him.
This can happen when two huskies meet each other after years apart, especially if they've been raised together from puppyhood.
But most often, it happens when a husky meets a new person.
That person might not understand huskies well enough to get along with them.
A husky might also growl if someone tries to pet him without asking permission first.
He'll usually growl until he gives his owner a chance to pet him, and then he'll be okay with it.
All huskies are born with a natural instinct to protect themselves.
When a husky sees something that looks like danger, he'll growl.
If you don't teach him to control his instincts, he'll continue to growl until he acts on those instincts, which could lead to dangerous situations.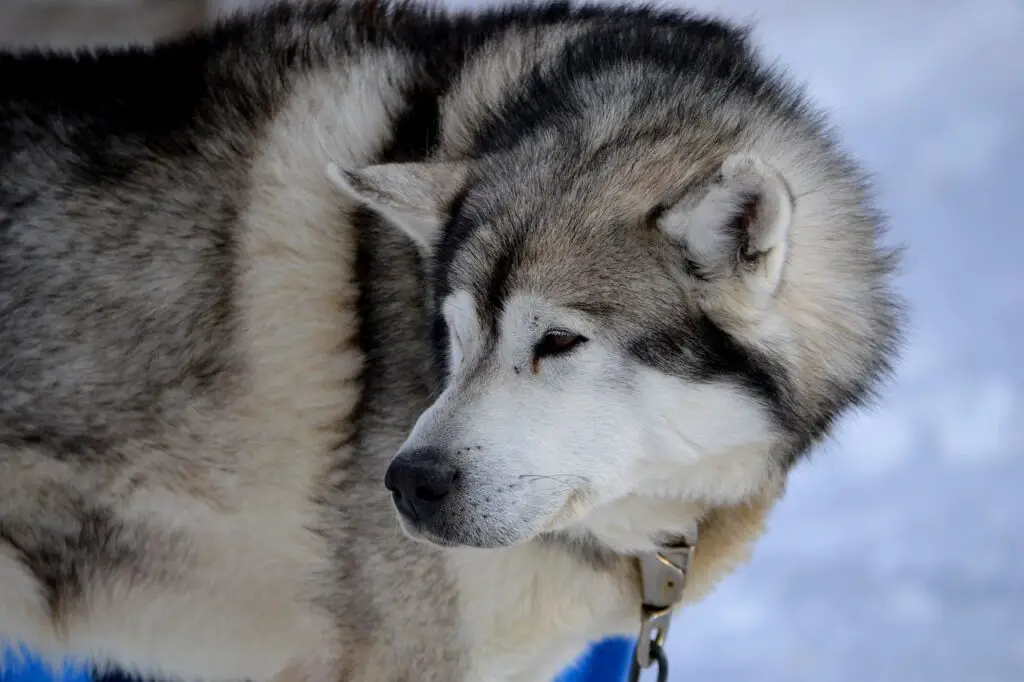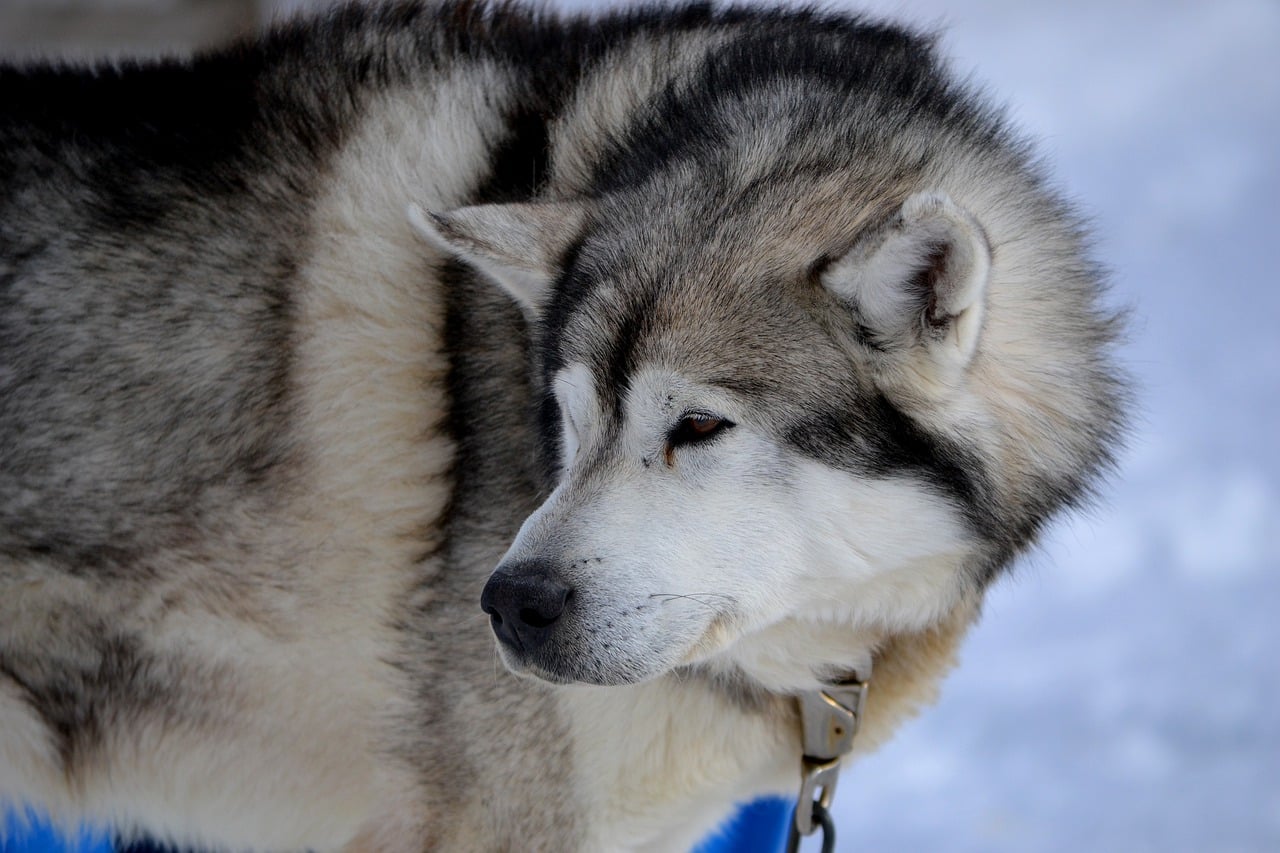 Fear
A husky growling might mean that the dog is afraid.
This could be due to a new environment, unfamiliar people, or other animals.
Whatever the case may be, you'll need to figure out the cause of the growling to know how to fix it.
The first step in figuring out why your husky is growling is to get him/her checked by a vet.
A veterinarian will be able to determine whether there is anything medically wrong with the dog.
If they find nothing physically wrong with the dog, then you can move forward to dealing with the problem at hand.
If your husky is growling because he/she is fearful, you can start working on teaching your husky to trust you again.
You can do this through positive reinforcement.
Start by taking your husky for walks around the neighborhood together.
Walk slowly, so your dog doesn't feel rushed.
When your husky starts to relax, praise him/her as soon as possible.
As time goes on, increase the distance between you and your husky.
After a while, you can take your husky into public places like restaurants and stores.
Keep in mind that not all dogs are comfortable in these situations.
If your husky seems nervous about going into a store or restaurant, avoid those places altogether until he/she gets used to being in public.
Once your husky becomes comfortable in public, try introducing your husky to some new sights and smells.
Take your husky to the park and introduce him/her to different types of dogs.
If your husky is particularly friendly toward other dogs, continue to expose him/her to different dogs when you go outside.
This way, your husky won't be scared of any particular type of dog.
A husky growl is usually an indicator that your dog is uncomfortable with something.
Discomfort
It could be a toy, a stranger, another animal, or any other object.
The most common cause for this type of growling is fear, but there are also many other reasons why your husky might start growling.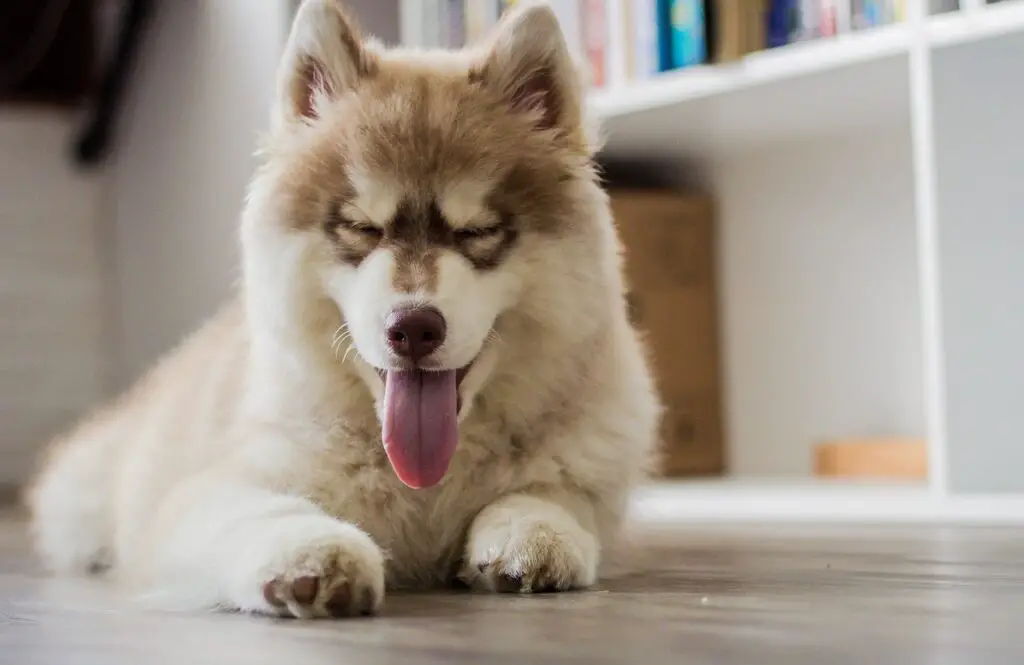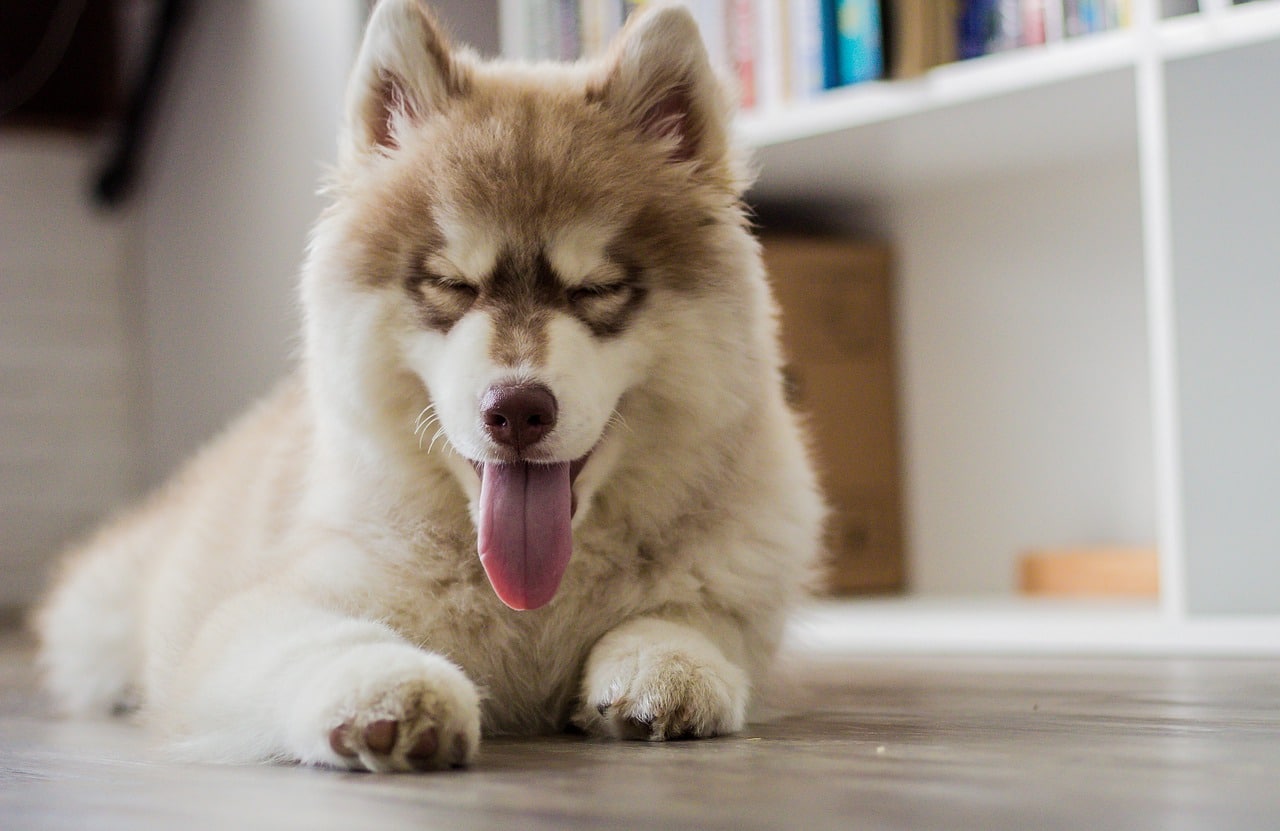 Fear
If your husky has started growling at strangers, he may be afraid of them.
This can occur when a husky sees someone who isn't familiar to him.
When they see the person, they may think that they're going to hurt them.
In order to calm down, the husky may start growling as a way of warning the other person not to hurt them.
Other times, your husky may not be afraid of people, but rather objects.
If your husky starts growling at things like toys, shoes, or anything else, it could mean that he doesn't like the sound of those objects.
He may also be trying to tell you that something is wrong with the object.
For instance, if your husky starts growling at your shoe, he may be telling you that your shoe is too big or too small for him.
Sometimes, your husky may be growling because he feels that he needs to protect you from something.
For example, if your husky suddenly growls at the mailman, it could simply be that he thinks that the mailman is going to steal your mail.
However, if the growling continues after the mailman leaves, then it could be that your husky is growling because he wants you to come outside so he can go out with you.
Too Much Noise
Another reason why your husky may start growling is that he doesn't like the noise around him.
Some sounds, such as loud music, can make your husky uncomfortable.
Other noises, such as fireworks, can scare him.
If your husky is growling at these types of sounds, it could indicate that he doesn't like the noise, and he'll continue growling until you turn off the noise source.
Too Many Toys
One of the best ways to get a husky to stop growling is to give him fewer toys.
Too much stimulation can be overwhelming for a husky, especially if he's used to having only a few toys.
For instance, if you have a husky that loves to chase after balls, it's probably not good for him to have a whole bunch of balls all over his house.
By giving him less toys, you can reduce the amount of stimulation he gets, which will help him to feel comfortable again.
However, if you don't give your husky enough time to adjust to a new number of toys, he may keep growling.
To avoid this problem, you should gradually add toys back into your husky's home.
As you do this, you should also try to slowly phase out some of his favorite toys.
For example, if your husky likes to chase after balls, you should start by taking away several of those balls every day.
When he stops growling, you can put more back into his home.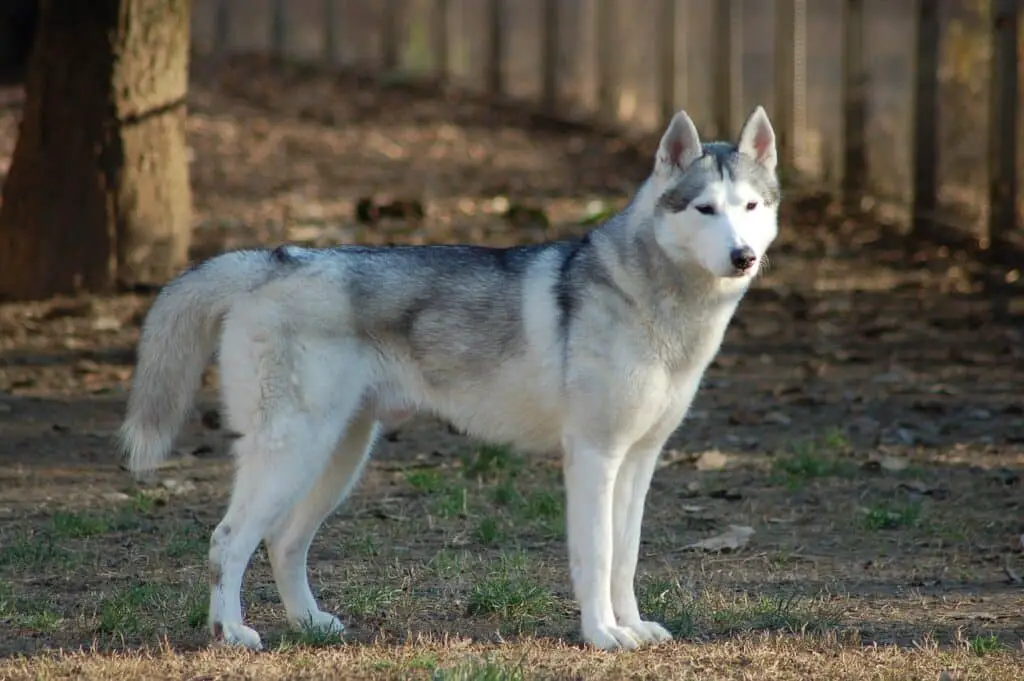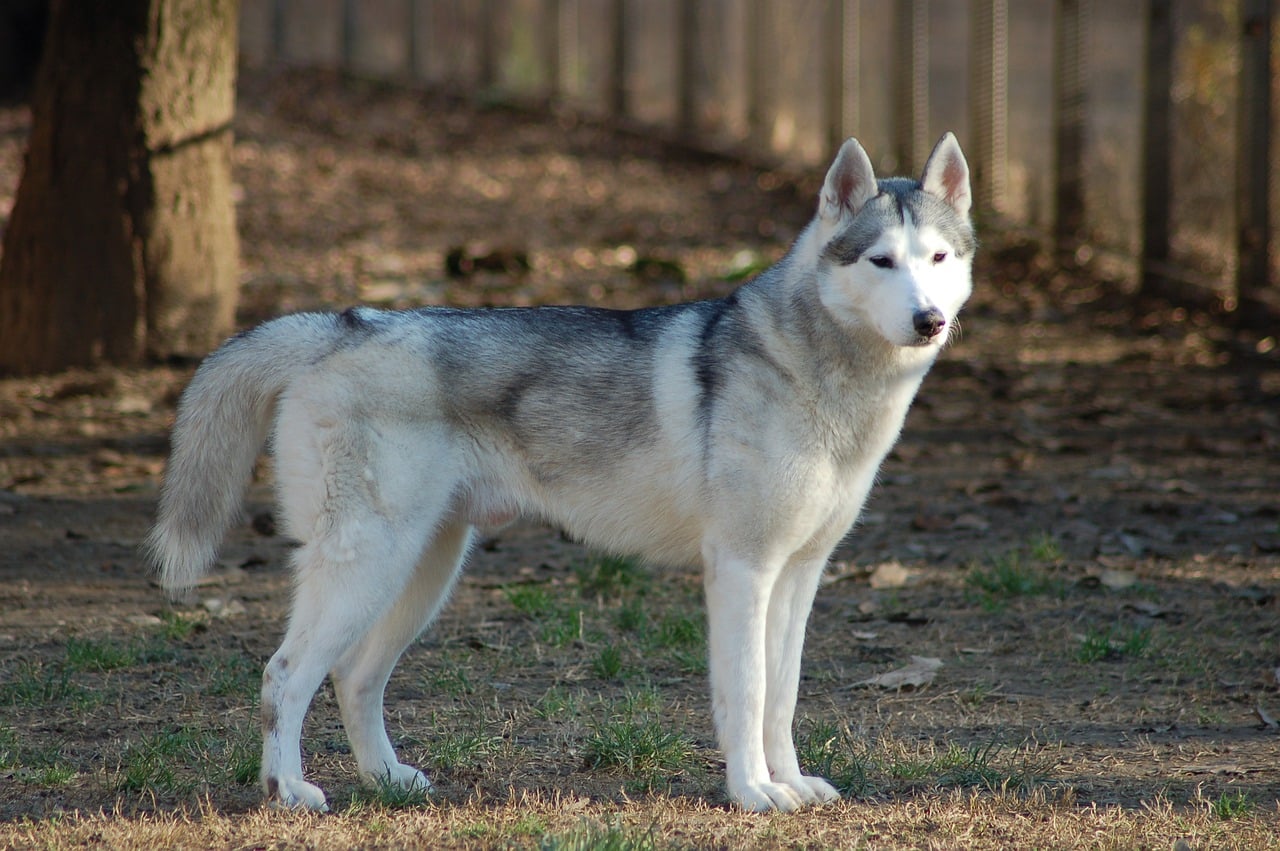 If your husky is growling at other animals, you might think it has aggressive tendencies.
However, this is not always the case.
Most huskies are socialized very well during their early years.
This means they get used to being around people and other animals.
In fact, some huskies may not like to be around people until they reach adulthood.
This lack of socialization can lead to a lot of barking and growling issues.
For example, if your huskie was never taught any commands when he was younger, then he may bark and growl at everything that moves.
This is because he hasn't learned that certain sounds mean "come here" instead of "get out of my face."
Because of this, you'll need to start working with your husky from puppyhood.
Start teaching him basic commands such as sit, stay, down, come, and heel so that he knows what each command means.
You can also teach him how to walk nicely on a leash by rewarding him whenever he keeps his paws off the ground and uses his leash correctly.
Genetics
Many huskies are born with a genetic defect called brachycephaly.
This means they have a small head when compared to their bodies.
Because of this, huskies have long faces, high foreheads, and flat skulls.
Since they don't have much room for their brain, they tend to be very intelligent, but also prone to anxiety, aggression, and fear.
The combination of these traits can make huskies seem like they're constantly looking for trouble.
When a dog is born with this condition, it usually results in a growl instead of a bark.
When a husky growls, it doesn't mean he's aggressive or threatening — it's just his way of expressing his feelings.
In fact, huskies tend to growl when they're scared, anxious, or excited.
If you've noticed that your husky is growling, there are several things you can try to help him calm down.
You'll need to determine why he's growling so that you can take action accordingly.
How to Stop Your Husky From Growling
If your husky has started growling at you, there are several things you can do to help calm him down and get rid of his growl.
Start by identifying the cause.
Many huskies start growling when they feel threatened, so take some time to figure out if your husky is playing with you or if he really feels threatened.
Is Your Husky Playing With You?
If your husky is playing with you, then he probably isn't feeling threatened.
This means that you don't need to worry about his growl.
Playtime is great for both you and your husky!
Are You Being Threatened?
If your husky is growling because he feels threatened, then you'll need to take action.
First, make sure that you aren't being threatening yourself.
If you are, then make sure that you keep those behaviors away from your husky.
For example, if you snap at your husky while walking, then stop doing that.
Don't yell at him, but instead speak calmly and softly.
You don't want your husky to think that his barking is okay.
Instead, you want him to associate barking with a negative outcome.
Second, make sure that your husky doesn't see you as a threat.
If he does, this will only reinforce his growling.
Make sure that you are standing tall and strong, not slouching or cowering.
He needs to see you as a confident person who won't back down from confrontation.
Third, make sure that you aren't provoking your husky into growling.
If you are, then you need to stop doing that.
For example, if you try to pet your husky when he's growling, you need to stop immediately.
Petting your husky while he's growling will only encourage him to continue growling.
Instead, wait until he stops growling before you approach him.
Conclusion
Your husky has probably been growling because he's either afraid or aggressive.
The best way to solve this problem is to find out which of those two reasons is behind his growling.
If it's because he's afraid, you can use a calming technique called desensitization.
This involves gradually exposing him to situations that make him feel uncomfortable.
If you don't use desensitization, your husky will only get worse.
If your husky is growling because he's aggressive, you can try to teach him to control himself.
But before you can start teaching him anything, you have to figure out exactly what triggered his growl in the first place.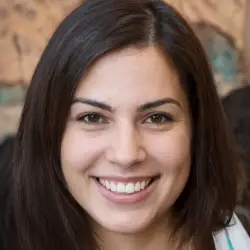 Latest posts by Megan Turner
(see all)