Letting our dogs enjoy the outdoors whilst staying safe is a top priority for every dog owner. This is even more important if you own a pool. If your dog loves the water or simply spends time around the pool it is crucial to own a pool ramp so that he/she can enter and leave the water easily. 
This is especially important if your dog has any serious health issues. A dog with poor sight or the inability to pull itself out of the pool could be left in a very serious situation. 
To make sure you avoid this unthinkable situation, we are here to help. We have compiled a list of the best dog ramps for pools, looking at the ramps your dog can easily use to get in or out of the water.
These ramps will let your dog enjoy the water safely, prevent any accidents from occurring, and give arthritic dogs the opportunity to have fun in the water once more.
If this sounds like something that will benefit you and your dog, be sure to stick around!
[amazon fields="B00006OALW" value="thumb"]
[amazon fields="B003IBMTRA" value="thumb"]
[amazon fields="B00303YT6K" value="thumb"]
[amazon fields="B00006OALW" value="thumb" image_size="large"]
The first pool ramp on our list is a versatile option that can be used in a variety of different circumstances. Offering reliable safety and security to your dog when in the pool, this ramp can also be used to help your dog climb into the car or navigate tricky steps.
Made from a unique, non-slip rubberized walking surface, this soft ramp is convenient and easy to use. Requiring no assembly, all you have to do is unfold the ramp before hanging it on the side of your pool. 
Capable of holding small and large-sized dogs, the PetStep folding pool ramp has been cleverly designed to make life easier for your dog. Thanks to the handles on either side of the ramp and a ridged surface, your dog can effortlessly stroll out of the pool without slipping. 
When we reviewed this ramp, we found that no matter how wet it got or what the weather was like, it would still work perfectly. 
In terms of durability, we were also very pleased. This ramp is made out of composite plastic that doesn't corrode easily and offers dogs a softer, more comfortable experience.
Pros:
No assembly - This ramp is ready to go.
Holds small and large dogs - This ramp is more than capable of holding any dog.
Anti-slip rubber surface - The rubberized surface gives your dog plenty of traction.
Cons:
Quite narrow - PetSteps pool ramp isn't very wide. 
Also available at: 
[amazon fields="B003IBMTRA" value="thumb" image_size="large"]
The Confer plastic pool steps could give you the best of both worlds in one easy-to-use, extremely reliable product. This set of pool steps is suitable for you and your furry friend, saving more space in your pool, and providing you with a ramp for everyone.
Featuring 4 big steps, this product is ideal for any pool up to 56 inches deep. As they are specially designed for humans and dogs, they have a solid weight limit of 400lbs. Unless you have a dog weighing 450lbs, which would be impossible, these steps will not break.
In terms of the design of each step, they offer great support and easy moveability for you and your dog. Thanks to the ribbed design and incredible amount of grip, your dog won't struggle to pull itself out of the pool like it would with other steps. 
An added bonus when it comes to the Confer steps is how easy they are to install. Using a set of mounting brackets and a sand ballast for weight, installation should take no time at all. 
The one downside we could see with this set of stairs is how much smaller dogs could struggle. Your little dog could possibly find it quite tiring climbing out of the pool and might benefit more from a ramp instead.
Pros:
Suited to you and your dog - You and your dog can use the steps to get out of the pool.
Solid - This ramp is durable and very reliable thanks to its strong design.
Reasonably priced - The Confer pool steps are surprisingly affordable.
Cons:
Might not suit smaller dogs - Very small dogs might appreciate a ramp more.
Also available at: 
[amazon fields="B00303YT6K" value="thumb" image_size="large"]
If you already have a poolside ladder in your backyard swimming pool, the Great Day pet pool could be a great choice for your dog. Despite being primarily designed to be attached to a boat.
Great Day has also managed to make this ramp versatile enough to suit pool usage too.
This compact and actually quite cute-looking ramp gives your dog more freedom and control over their time in the water. Needing no help whatsoever your best friend can jump in and out of the pool if and when it suits them. 
Made from lightweight, aircraft aluminum, you can rest assured that the ladder won't snap leaving your dog stuck in the pool. Built into the design of the ramp are deep ridges. These ridges offer support to the dog, ensuring they don't slip on their way out of the pool.
We actually found that this is very beneficial for arthritic dogs.
Unfortunately, this ramp isn't the best option for bigger dogs, but if you have a small or medium-sized dog it could be perfect. Portable and foldable, installing the ramp is super easy too so what more could want. 
Pros:
Compact and portable - This ramp takes up little space and can be easily transported.
Anti-slip ridges - The deep ridges built into the ramp prevent dogs from slipping.
Easily assembled - Great Day's pet pool ramp can be easily assembled poolside.
Cons:
Not suited to bigger dogs - This ramp is better suited to small to medium-sized dogs.
[amazon fields="B00006OALX" value="thumb" image_size="large"]
Another great PetStep pool ramp for dogs is their HalfStep ramp. This ramp is quite literally half the size of PetSteps original folding pool ramp.
This ramp is also designed to provide your dog with comfort and security as it makes its way out of the pool.
Arguably the best feature of this ramp has to be its gentle slope. This gentle slope makes it a lot easier for injured or elderly dogs to get in and out of the pool. This is great because it means no matter what, your dog can still have plenty of fun.
The HalfStep dog ramp is made out of fiber-reinforced plastic. As a result, it is very durable and sturdy, holding up to 500 lbs of weight.
To guarantee your dog's safety as it leaves the pool, PetStep has included a non-slip ridged surface in the design of this ramp. Your dog will be able to leave the pool with confidence, maintaining excellent traction and grip as they move.
The thing we loved most about this pool ramp are the heavy-duty, yet soft rubber, non-slip grips sitting at each end of the ramp. This makes it a lot easier to attach the ramp to your pool. 
If you want to let your dog enjoy the water while staying safe, we highly recommend taking a look at the PetStep dog ramp.
Pros:
Extremely safe - This ramp will keep your dog super safe while they play.
Suitable for most dogs - Most dogs, small and big will be able to use this ramp.
Good grip - To prevent your dog from slipping the HalfStep ramp is fitted with deep ridges and anti-slip materials.
Cons:
One-sided - The rubber surface is only on one side.
Also available at:
[amazon fields="B01FQ3R6EI" value="thumb" image_size="large"]
The final pool ramp for dogs on our list is probably our favorite when it comes to versatility. Suiting the needs of small, medium, and large-sized dogs, you really can't go wrong with this pool ladder. 
Portable and super lightweight, this 17lbs ladder is capable of supporting dogs that weigh up to 170lbs. The ladder might look quite wide which is more beneficial for bigger dogs, but the steps are only small and close enough together that they also suit small dogs. 
Helping dogs get out of the pool quickly and safely, the steps on the ladder also have a great texture to help your dog find its footing and reduce the chance of any slips. 
One feature that shows how much thought WaterDog has put into its ladder, is the color of its steps. Dogs see color very differently from us. Purple and yellow are the colors they see easier than any other color.
With this in mind, WaterDog has built this ladder with bright yellow steps. This makes it a lot easier for your dog to see the steps. This could come in crucial in an unfortunate situation.
We love how quickly this ladder can be removed from the pool. If you decide to go in the pool simply lift the ladder out to create more room for yourself. When you've finished in the pool, you can simply put the ladder back in place.
Pros:
Easily seen - Your dog will be able to easily see this ladder.
Easily moved - The ladder can be moved in and out of the pool in a matter of seconds.
One size fits all - The WaterDog dog ladder can be used by every size of dog.
Cons:
Pricey - The ladder is quite expensive.
Also available at:
Best Dog Ramps For Pools Buying Guide
There are a number of important factors well worth considering when choosing the right pool ramp for your dog. Below you will find some of these factors.
By taking them into account you'll be able to make a decision you and your dog can be pleased with.
Ramp Size
Easily one of the most significant factors to consider when selecting a pool ramp is how large the ramp is in comparison to your dog. Ask yourself what would happen if the pool ramp is too small or too big for your dog?
It could struggle to get out of the pool which could then potentially lead to the unimaginable. To ensure you get the right size ramp for your dog, it is always important to measure your dog's dimensions. You can then look for a ramp that fits those dimensions well.
Generally speaking, larger dogs don't like ramps too much. Instead, they are more comfortable using steps or a ladder.
This is because ramps tend to be narrower than steps, making it more difficult and awkward for them to easily get out of the pool. Smaller dogs tend to prefer ramps because steps are a little harder for them to climb due to their little legs.
Anti-Slip Material
It won't come as a surprise to you that when your dog goes for a swim, he/she is going to get very wet. If the ramp you purchase doesn't have any anti-slip materials integrated into its design, your dog will easily slip off the ramp.
This could quite easily result in your dog not being able to get out of the pool or injuring itself during the slip.
With this in mind, it is absolutely essential to buy a ramp with anti-slip materials. This additional grip will prevent your furry friend from slipping off the ramp when wet. If you can find a ramp with ridges made from textured materials too, even better.
This will increase the grip your dog has on the ramp and above all else make the board a lot softer and more comfortable for the dog to walk along. 
Easy To Assemble
Nobody wants to spend too much time putting a pool ramp together and installing it, and luckily we don't have to. Some pool ramps come with a straightforward assembly manual that is easy to follow and takes little time to put into action. 
Portable ramps typically take seconds to install. Normally you have to undo a strap and click the ramp in place.
On the other hand, permanent ramps take a little longer and more effort to install. Permanent ramps suit in-ground pools better whereas compact, portable ramps are better suited to above-ground pools.
Waterproof
Unbelievably, not all dog ramps are waterproof. This is very dangerous and something you need to keep an eye on as the ramp will become almost impossible for your dog to use as soon as it gets wet. This could ultimately lead to your dog drowning if they continue to slip.
A high-quality ramp will not let any water stick to its surface, letting your dog freely run out of the pool, even when soaking wet. 
A lot of waterproof pool ramps will have a specialized paint coating that will prevent the water from sticking. If a ramp has this waterproof feature it will be clear to see in the product description.
We recommend only looking for a dog ramp that is 100% waterproof. If the product description states anything else, leave it and look at a different ramp.
The Type Of Ramp You Need
As you can see from our list, there are a whole host of different ramps to choose from. Some ramps take the form of a step, while others are simply a small platform for your dog to jump onto. 
When deciding which type of ramp to purchase, you need to think about your circumstances and what your dog needs. For example if you only have a small pool and a big dog, a step ramp might be better because you and your dog can use it easily. 
On the other hand, if you have a small dog who requires an easy way out of the pool, a small ramp will be better because they don't have to do any climbing. You may even need a portable ramp that you can use to help your dog get in and out of the car or your boat.
By stepping back and taking these sorts of factors into consideration, you should be able to make a good decision that suits you and your dog.
Easy Storage
You might not have your ramp out all year round, particularly in the winter months. This could mean you need to find somewhere to put the ramp away where it won't be interfering. Luckily a lot of ramps can be easily removed and folded away in a matter of minutes, making life a lot easier. 
If you need a ramp that has to be easy to store, you should look out for ramps that simply need to be unhooked and folded, collapsed down, or just unscrewed. A ramp with these features can then be easily stored away in a garage or shed all winter.
Frequently Asked Questions
What Angle Should My Dog's Pool Ramp Be?
The best angle for a dog pool ramp is between 10-30 degrees. Angles up to 45 degrees are also okay but anything any higher can be quite dangerous for the dog. 
When setting your dog pool ramp up, you always need to think about how comfortable the dog will be. Your dog should be able to easily climb out of the pool without exerting too much effort.
How Do I Get My Dog To Use A Pool Ramp?
Every dog learns to do things differently so something that works for you might not work for somebody else. However, usually, a dog will be able to learn how to use a ramp when it is first placed on a flat surface.
Once your dog has started crossing the ramp easily, gradually increase the angle of the ramp until your dog becomes accustomed to it. 
When your dog does well on the ramp, give him/her a treat or some playtime to show them they have done the right thing.
Which Dog Pool Ramp Is The Best?
We have a few favorites when it comes to the best pool ramp for dogs. For example, the WaterDogs dog ladder is the best for versatility and the Great Day pet pool ramp is best for portability.
However, if we had to pick one ramp for best overall performance and value for money, we would have to pick the PetStep original folding pet pool ramp. This ramp is easy on the eye, easy to install, and offers dogs a comfortable and more importantly safe way to get out of the pool.
Final Thoughts
Whether your dog loves to swim in your pool or simply spends a lot of their time around it, owning a durable, reliable pool ramp will ensure their safety. 
It isn't uncommon for dogs to accidentally fall in a pool, so it is important to ensure they can get out. This is even more important if your dog has serious health conditions. 
In this article, we have shown you five of the best pool ramps for dogs that you can buy right now. Whether you have a big dog or a small dog there is something on this list for you. In fact, most ramps on our list suit big and small dogs.
Now you know what to look for and have our list at your fingertips, take some time to narrow down the options, and find the pool ramp that suits your dog's needs best.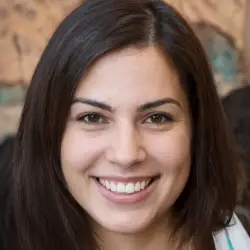 Latest posts by Megan Turner
(see all)