As soon as you let that adorable bundle of fluff into your home, they instantaneously become a part of the family. And you love them fiercely, am I right?
There's nothing you won't do to protect your dog, especially when your dog is so loyal to you. And it's downright heartbreaking to see them stressed, upset, or anxious. Unfortunately, there's also quite a lot of things that can upset your pup. 
My dog had never seemed that anxious over loud noises, but last year during the Forth of July, he was terribly frightened.
The big bangs had him cowering under our dining table with true fear in his eyes. It broke my heart. And since we'd never had a problem like this before, I was not well-equipped to deal with the matter at hand.
Safe to say, I learned from my mistake. With anxiety blankets and tablets at the ready, I'm a little more prepared this time around. 
But for those who want to take the edge off without a trip to the vet and prescription drugs, there are still plenty of viable options.
There are tons of doggy treats that can settle your dog's nerves, and keep them calm and relaxed.
Remember, these don't have to be just used for fireworks and loud noises either, they also work wonders for hyper dogs, stressed dogs, and dogs that suffer from separation anxiety too. 
Best Calming Treats For Your Four-Legged Friend 
Okay, so just before we get started, I want to take the time to remind you that you should always speak to your dog's veterinarian before administering any new calming treatment or supplements. 
It's also important to keep in mind that calming treats are not medicinal. They are actually categorized as nutraceuticals which are essentially the equivalent of a human nutritional supplement. 
And while I cannot guarantee the effectiveness of these treats, I have tried and tested all the following products with my own nervous pup and they've worked well for him.
If your pup often suffers from fear, distress, or anxiousness, they are definitely worth a try. 
Alright, now that's out of the way, let's get started and get your pup back to their happy and content selves.
[amazon fields="B08N1DRYRW" value="thumb"]
[amazon fields="B002Z8F2OO" value="thumb"]
[amazon fields="B01B67RHAG" value="thumb"]
[amazon fields="B08N1DRYRW" value="thumb" image_size="large"]
These soft chew treats were actually inspired by a dog owner. Their beloved Golden Retriever Boulder would suffer terrible anxiety from the smallest things.
This was heartbreaking for Boulder's owners to watch since he was usually so full of life. 
This led to Bouders Dad creating these treats that are both delicious and calming for Boulder and the thousands of other dogs just like him. 
You can opt for these chews with or without CBD and they come in two scrumptious flavors - peanut butter and bacon.
And these tremendous treats promote a serene and peaceful mindset. 
Pros
The chewable treat comes in two tasty flavors which can be administered up to twice a day. 
Veterinarian-formulated for peace of mind for owners. 
Free of artificial colors, preservatives, flavors, corn, wheat, soy, and grains. 
Cons
While these treats promote calmness without drowsiness, the effects can vary from dog to dog. 
Potential to increase your pup's serotonin or dopamine levels.
[amazon fields="B002Z8F2OO" value="thumb" image_size="large"]
This brand has been curating veterinary-formulated dog supplements for years so you can be sure you'll be in safe hands. And they're one of the best options to choose if your dog gets stressed when traveling. 
They contain several ingredients with calming properties such as melatonin, L-tryptophan, and thiamine but they also contain ginger which is known to reduce motion sickness. This should help your pup feel a little more relaxed while being driven around. 
You'll just need to ensure that you administer the recommended dosage around 30 minutes before your set to travel to allow the time for them to kick in. 
And for an extra bit of peace of mind for mom or dad, also know that these aids are made in a cGMP facility and are also approved by non-other than the National Animal Supplement Council. 
Pros
NASC seal of approval.
Soft chews that are easy for your dog to swallow. 
Reduce anxiety and motion sickness. 
Cons
4-6 chews required per dose for larger dogs.
[amazon fields="B01B67RHAG" value="thumb" image_size="large"]
This relaxing stress and anxiety powder supplement is designed to be sprinkled over your dog's dinner. You can do this daily and then sit back and watch all the stress melt away.
You'll need to base the size of your scoop on the weight of your dog in terms of dosage. 
My advice here would be to slowly acclimate your four-legged friend to the supplement. Start small and then you can add more as necessary. 
This supplement is perfect for particularly boisterous dogs that have a tendency to become somewhat destructive during their freakouts. It also works wonders for general anxiety and noise aversion. 
Pros
Free from dyes, preservatives, chemicals, and synthetic ingredients. 
Created by a pioneer in holistic and natural nutrition for animals. 
Cons
Relatively expensive and the powder runs out fast for larger dogs.
Fussy dogs may not eat their food with the addition of the powder.
[amazon fields="B08J4HNQZF" value="thumb" image_size="large"]
There is a massive appeal for hemp treats in the dog world, and that's probably because there is the potential for them to help so many ailments.
Of course, results can vary from dog to dog, but hemp treats have been known to aid not only anxiety but cognitive dysfunction, seizures, and arthritis. 
So not only can these treats help keep your dog nice and calm, but they can help with pain relief too. 
These treats claim to reduce stress within just 30-45 minutes, and I must say that for my dog, they lived up to these claims.
And the very best part is because they look and taste like dog treats, there's no need to get sneaky and hide them in other food items. 
Pros
Hundreds of positive reviews. 
Carrot, flaxseed, and sweet potato are used to create a taste that dogs enjoy.
Free from GMOs. wheat, corn, and preservatives. 
Cons
Contains duck and barley that may not be appropriate for some dogs. 
Most effective when given on a full stomach which may not always be possible if your pup is too anxious to eat. 
[amazon fields="B000RFTCZW" value="thumb" image_size="large"]
This isn't exactly what you picture when you think of a 'treat' but it works so well that I couldn't possibly leave it off the list. This all-natural per de-stressor has been tried and tested by many for years. 
Using five different natural flower essences, this remedy can reduce the symptoms of not just dogs - but many other pets in your home too.
The formula is completely devoid of sugar, artificial flavors, gluten, and major allergens - and it's completely plant-based too. 
And thanks to its all-natural creation, it means that you can actually use it with other stress-relief treats too. Just be sure to discuss it with your veterinarian first. 
Pros
Applicable for all breeds and sizes
Can be used for cats, birds, rabbits, lizards, and horses too. 
All-natural and doctor-developed. 
Cons
Drops must be administered via mouth which not all dogs will like or let you do. 
Can be messy work while traveling. 
[amazon fields="B07TBBR6V3″ value="thumb" image_size="large"]
It can be good practice to keep your dog entertained and busy when they are exhibiting signs of stress or anxiousness. And that is exactly what Zesty Paws had in mind when they created these dental stick snacks. 
Your pup will be nice and distracted gnawing away, but they are also ingesting melatonin, chamomile, magnesium citrate, and valerian root which all have natural calming properties and effects. 
For best results, feed your dog their stick before the stressing trigger is involved. So for example, just before a thunderstorm or half an hour before a car journey. 
Pros
Approved by the National Animal Supplement Council. 
Three in one - distraction, de-stressor, and promotes periodontal health. 
Cons
Not all dogs will like the peppermint taste. 
Requires supervision the entire time they are being eaten (as is the same for all dental chews and sticks)
Final Thoughts
To us humans, the world makes a lot more sense. To dogs, it can be quite scary. They don't understand where those big loud noises come from, and they don't know why they feel so queasy when driving, and it can cause them a lot of stress. 
Of course, all of us dog lovers can agree, an anxious or upset pup is something that none of us want to see. 
That is why it is so important to ensure that you always have some calming and relaxing treats to hand in your arsenal. This way, as soon as you identify the problem you can work quickly and effectively to provide a solution. 
Any of the six treats on this list should have your scared or stressed pup back to their happy, calm, and content self in no time at all.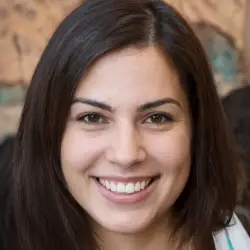 Latest posts by Megan Turner
(see all)